In Conversation Series
Our audience engagement series offers an insider's look at each production with artists and guest scholars, plus other special events designed to enhance your Lantern experience.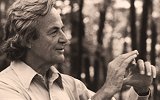 The Quirks of Quarks: Richard Feyman's Legacy
Stick around after the following Sunday matinee performances of
QED
for FREE conversations that delve deeper into Richard Feynman's biggest discoveries, including quantum electrodynamics or QED, his dual careers as beloved teacher and renowned physicist, and his lasting impact on the world of science.
Sunday, November 23
Lantern artists will be joined by Paul Halpern, a professor of Physics at the University of the Sciences in Philadelphia. A recipient of a Guggenheim Fellowship, Fulbright Scholarship, and an Athenaeum Literary Award, Halpern has studied space, time, and the relationship between science and culture. Halpern is the author of over a dozen science books, including Brave New Universe, What's Science Ever Done for Us?, What's the Matter with Pluto?, and the soon-to-be-released Einstein's Dice and Schrödinger's Cat: How Two Great Minds Battled Quantum Randomness to Create a Unified Theory of Physics.
Sunday, November 30
Lantern artists will be joined by Kenneth William Ford, a theoretical physicist currently residing in Philadelphia. Ford is the former first chair of the physics department at the University of California, Irvine; president of the New Mexico Institute of Mining and Technology; and Executive Director and CEO of the American Institute of Physics. Dr. Ford was mentored, as was Richard Feynman, by John Archibald Wheeler, who was influential in mentoring a generation of physicists who made notable contributions to quantum mechanics and gravitation. He is the author of nine books, including The World of Elementary Particles, 101 Quantum Questions, and assisted in writing Wheeler's autobiography, Geons, Black Holes, and Quantum Foam.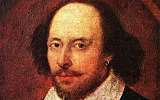 Scholars In Conversation: Desire, Dance & Dynamic Women in The Taming of the Shrew
Mondays at 7pm: April 6, 13, and 20, 2015
Subscribers, Seniors, Students, Groups: $8 each | $20 full series
All Others: $10 each | $25 full series
Presented in conjunction with
The Taming of the Shrew
, this three-part series will draw on the themes of Shakespeare's play to catalyze discussions about today's social, cultural, and scientific issues. We will examine the science of sexual attraction, explore the power of dance to break down barriers and transform cultures, and tackle Kate's "taming" head on.
Panelists will be announced shortly.
Artists In Conversation
This post-show discussion series offers an opportunity to talk with the artists involved with each production. Admission is FREE • On the Lantern Mainstage
Directors In Conversation
Get a first-hand look into the design and rehearsal process with pre-show Q&As with each play's director. Admission is FREE • Downstairs in the Lantern Lab
Open Captioned Performances

In this special service for our deaf and hard-of-hearing patrons, captions that translate dialogue and other sounds will be displayed on an LED screen located near the stage. This service is included with your regular ticket purchase to indicated performances. When ordering tickets, please indicate that you or members of your party will be using this service so that we may ensure optimal seating locations for viewing the captioning screen.
Unless otherwise noted, all events take place at St. Stephen's Theater, home of Lantern Theater Company, 10th & Ludlow Streets, Philadelphia, PA.
Get directions»