Our Luminary Award Honorees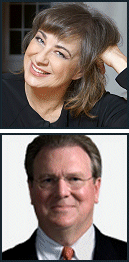 MARY MARTELLO has performed on stages across the United States and is a legend in Philadelphia. At the Lantern, Mary has played Sister Aloysius in
Doubt: A Parable
(2015), Mag Folan in
The Beauty Queen of Leenane
(2013), and Gertrude in
Hamlet
(2009). She has received 17 Barrymore Award nominations and won five.
RICHARD VAGUE serves as President of the Board of Directors of FringeArts and as Chair of the Board of Trustees of the University of Pennsylvania Press. He also serves as a trustee of the University of Pennsylvania, the Franklin Institute, the Museum of the American Revolution, the Pennsylvania Academy of the Fine Arts, and Penn Medicine. He is one of the managing partners of Gabriel Investments and the Chairman of The Governor's Woods Foundation.
About the Lantern
The mission of Lantern Theater Company is to produce theater that explores the human spirit through our choice of classic, modern, and original works. We seek to be a vibrant, contributing member of our community, to invite participation in dialogue and discussion, to educate audience members about artistic and social issues, and to employ theatrical language and techniques to enrich learning in the classroom. Founded in 1994 by Charles McMahon and Michael Brophy, the Lantern has produced over 80 plays by a wide range of contemporary and celebrated classic playwrights. We reach a growing audience of over 20,000 each season through three core programs: our mainstage productions, our audience enrichment series, and our education program, Illumination.
Benefit Co-Chairs
Kevin* & Sarah Kleinschmidt
Benefit Committee
Eugene* & Joann Bissell
Bruce & Barbara Byrne
Nicholas D. Constan*
Joan Countryman & Ed Jakmuah
Brendan* & Christine Cox
Stacy Maria Dutton*
Stephen Field*
James & Kay Gately
Leonard & Mary Lee Haas
Betsy Kalish*
Gregory Kleiber* & Harriet Ravdin
Joe Kluger & Susan Lewis


Jim McClelland & Lynn Miller
Charles McMahon*
Donna Saul Millen*
David Pierson* & Barrie Trimingham
Ellen Rosen Rogoff*
Michael & Nina Rosenthal
Anne Shuff & Mike Creech
Jeanne Sigler* & James Fratto
Arthur & Miriam Spector
Nick Stuccio & Anne White
Shel & Karen Thompson
Rebecca* & Rhys Williams
*Lantern Board Member
List complete as of
Proceeds benefit Lantern Theater Company's award-winning artistic and education programs, and your ticket purchase is tax-deductible to the extent allowable by law. Questions? Please contact the Lantern Box Office at boxoffice@lanterntheater.org or 215.829.0395.