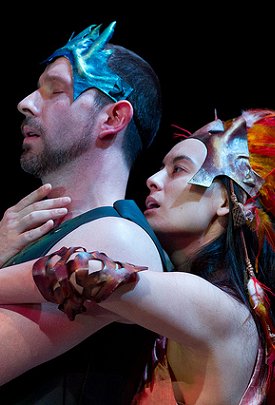 Tonight's 7:00pm performance of A Child's Christmas in Wales will go on as scheduled.
If you have any questions or concerns, please call the Box Office at 215.829.0395. [

Need help? Prefer to speak to a live person? Please call the Box Office at 215.829.0395 or stop by in person during and we would be happy to assist you!

Welcome to the 2013/14 Season
Our 20th annversary season is packed with a diverse line-up of plays and events that celebrate our commitment to theater that is fun, engaging, and connected to our modern world. Join us!
A Child's Christmas in Wales

By Dylan Thomas

Now - Jan 5

From the Lantern and interdisciplinary performance artist Sebastienne Mundheim comes an original adaptation of one of the best-loved works from great Welsh poet Dylan Thomas.

A Sip Down Memory Lane Wine & Cocktail Tasting

Fri Dec 20

Sample seven wines and classic cocktails during this Proustian style tasting, led by the Wine School of Philadelphia's Keith Wallace and focused around aromas that evoke memories.

Puppet Workshops for Kids with Charlie DelMarcelle

Various Dates

In this workshop with Wales actor Charlie DelMarcelle, kids will explore the process of storytelling, create their own puppetry pieces, and collaborate to bring their work to life. FREE with ticket purchase!

Julius Caesar

By William Shakespeare

Feb 6 - Mar 16

Tony Award-winner Forrest McClendon in Shakespeare's timeless political thriller, in which personal ambitions, whispered conspiracies, and unlikely alliances set up a disastrous chain of events that bring down an emperor.

Great theater at great savings –

See 3 plays for as little as $54!
Choose a 3-Play Series or a convenient Flex Package and see theater when you want, plus 10-25% off box office prices, priority seating, free ticket exchanges, parking and dining discounts, and other money-saving benefits. more
Come as a group and save up to 25%!
Enjoy a great night out, waived handling fees, concierge services, plus a free ticket for you as Group Leader. more
Plan a class trip!
Educators, enhance your curriculum with discounted student matinee performances. more

Scholars: In Conversation

With special guests

Feb 24, Mar 3 and 10

Friends, Romans, Countrymen: Julius Caesar in the Modern World draws on Shakespeare's play to catalyze discussions of government transparency, the power of rhetoric, and the unintended consequences of regime change.

The Train Driver

By Athol Fugard

Apr 10 - May 4

The Philadelphia premiere of Athol Fugard's new play about redemption in post-apartheid South Africa, starring beloved Philadelphia actors Peter DeLaurier and Frank X on stage together for the first time

The Screwtape Letters

By C.S. Lewis

May 27 - Jun 15

Anthony Lawton's rollicking adaptation turns C.S. Lewis' revered classic into a sumptuous multimedia event with music, dance, and infernal unpredictability.
Ticket Prices – Mainstage
Adult
Seniors*
Students*
Preview: Thu 7pm, Fri 8pm, Sat 8pm, Sun 2pm, Tue 7pm
$20
$20
$20
Opening: Wed 7pm
$56
$56
$56
Wed 2pm & 7pm, Thu 7pm
$30
$25
$20
Fri 8pm, Sat 2pm
$35
$30
$25
Sat 8pm, Sun 2pm
$38
$33
$28
*Valid ID required for full-time high school/college students and seniors 65+
Ticket Prices – Other
Scholars: In Conversation
Friends, Romans, Countrymen: Julius Caesar in the Modern World
Save 15% when you register for all three sessions!
$20 for subscribers, seniors & students | $25 all others
$10
$8
$8
Student Discounts
Varies by performance
Groups of 10 or more
Varies by performance
Prefer to speak with a live person?
Please call us at 215.829.0395 or stop by in person during
regular Box Office hours
.


For Your Information
Seating: All seating is reserved. Seats are assigned on a best available basis by date received; all special requests are subject to availability. The house opens 30 minutes before showtime.
Late Seating: Latecomers will be seated at appropriate intervals at the discretion of house management. To avoid disruption to the actors and your fellow audience members, patrons arriving after a performance has begun will be seated in the balcony. Balcony seating is EXTREMELY limited, so we hope you will make every effort to arrive on time. For your safety and the safety of those around you, please comply with all instructions provided by house management. Under no circumstances will refunds be granted for latecomers.
Accessibility: We regret that our resident home, St. Stephen's Theater, requires climbing a flight of stairs and is therefore not accessible to patrons using a wheelchair. No elevator service is available. We are, however, able to accommodate patrons with early seating or other special needs – including our open captioning service available at select performances. When ordering tickets, please let us know how we can assist you.
Seating Charts: Our flexible theater is transformed to best suit the specific needs of each production, ensuring that every seat provides the best possible view of the action. Due to this flexible seating arrangement, we regret that we are unable to post seating charts at this time.
Parking: Lantern single ticket buyers are entitled to a discount at the nearby LAZ Parking garage during specified hours. details


Header Photo: Geoff Sobelle in
Hamlet
(2009), David Ingram and Luigi Sottile in
The Government Inspector
(2008), Forrest McClendon and Lawrence Stallings in
Sizwe Bansi Is Dead
(2009), and Kristyn Chouiniere and Paul L. Nolan in
The Hothouse
(2008). Photos by Jeffrey Stockbridge.
©2013 Lantern Theater Company
Terms of Use
Privacy Policy
Website developed by
MindLabs.net