Participant Reactions
"I think participation in this theater program helped me to feel a little less like a medical student, and a little more like a human being again. And that's a very good thing."
"I thought this program embraced the world of medicine with humor, reflection, and empathy. It showed me that fellow medical students and physicians struggle with common issues that our training fails to teach, and that we have to simply learn by experience. A definite highlight of my first year."
"I feel very grateful to have been able to be a part of this class. It opened my eyes to a new way to think about things while also allowing me to have fun and relax in a life that otherwise can be very stressful."
"I think the process of writing and acting helped me process a lot of the hurt and pain I see every day in the hospital. It also helped me feel good about the work I do and gave me permission to simply be me."

Illumination Education Program
The Empathy Project
Lantern Theater Company partners with the Sidney Kimmel Medical College (SKMC) of Thomas Jefferson University to offer an introductory course on drama, acting, and playwriting for their graduate students of health care professions, resident physicians, and faculty at the medical and nursing schools.

Conceived by Salvatore Mangione, MD, pulmonologist and director of physical diagnosis-clinical skills at SKMC, and the Lantern's artistic director, Charles McMahon, this innovative program seeks to foster empathy and tolerance for ambiguity among health professions students using the tools and techniques of the theatrical form. According to McMahon: "The Lantern has long held the belief that theater should enrich the life of its community by providing people with unique experiences and uncommon perspectives that help us to create greater context and meaning in our lives. This collaboration with Thomas Jefferson University has the potential to open up new ways our respective fields can enrich each other."

The Empathy Project launched in November 2014 and is now integrated into the larger humanities curriculum required for first-year medical students at SKMC. Dr. Mangione was particularly interested in theater as a tool to foster empathy. "Theater is not entertainment," Dr. Mangione said. "The Greeks created drama to be catharsis by proxy. It is a tool to understand the human condition."

Lantern teaching artists lead medical school students and healthcare professionals in workshops that explore a variety of acting and playwriting techniques. The program typically culminates in a live presentation, performed by an ensemble of Lantern artists and program participants for an audience of students, staff, and community members.
More Information
From Philly Voice
Operating Theater: When doctors do drama - The Empathy Project offers turns med students into playwrights. read


From WHYY's The Pulse
Think about a time when you had a bad interaction with a doctor. Maybe they seemed cold, distracted, not interested in what you had to say. Does that make them a jerk? Maybe, but consider that burnout is a big problem in medicine, as doctors repeatedly are confronted by the most bleak of human conditions. An experiment is underway at a Philadelphia medical school to inoculate students against this loss of empathy with the help of theater. Yep, theater. Elana Gordon explains. listen


From the @Jeff Blog
All the World's a Stage, Even the Med School Classroom. read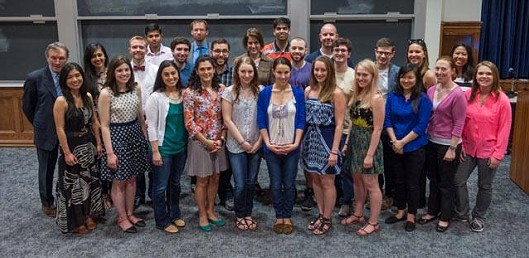 Salvatore Mangione, M.D. (second row, far left) pictured with Empathy Project participants