Cast
Anthony Lawton
Brian McCann
Mary McCool
Peter Pryor
Seth Reichgott
Sarah Sanford
Luigi Sottile
Frank X

Set Designer
Meghan Jones
Costume Designer
Millie Hiibel
Lighting Designer
Janet Embree
Sound Designer & Music
Nick Rye
Fight Director
J. Alex Cordaro
Dramaturg
Kathryn MacMillan
Stage Manager
Lisa Vining

Production History
Othello
By William Shakespeare
Directed by Charles McMahon
March 28 - May 4, 2008
The charismatic general Othello is admired throughout Venice for his strength, honesty, and courage... except by the treacherous villain Iago. When Othello marries the beautiful Desdemona, Iago seizes the opportunity to exploit the general's trust, inflame his jealousy, and ultimately destroy him. One of the most powerful tragedies of the English language,
Othello
is a taut epic of passion and betrayal that crashes to a devastating conclusion.
"A juicy, eventful, heartrending production!"
–EDGE Philadelphia
[
More
]
"Fierce theater...the skilled cast is a joy to behold!"
–Curtain Up
[
More
]
"A raw-boned, exciting evening to last in memory."
–Philadelphia City Paper
"An indelible performance... Frank X's realization of the title role alone makes it worth seeing."
–Broad Street Review
"[Peter] Pryor has a blast... [Frank] X's transformation is chill-inducing... the pair tear up the stage like the pros they are."
–Philadelphia Inquirer
"Engaging production... as good as the supporting performances are, it's the teaming of Pryor and X that keeps us riveted."
–Philadelphia Weekly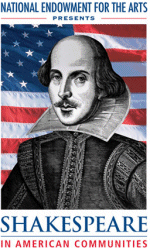 Lantern Theater Company's production of
Othello
is part of
Shakespeare for a New Generation
, a national initiative sponsored by the National Endowment for the Arts in cooperation with Arts Midwest. Additional support provided by the
Pennsylvania Humanities Council
.