Cast
Mary Lee Bednarek
David Blatt
Rachael Joffred
Andrew Kane
Jered McLenigan
Tim Moyer
Peter Pryor
Allen Radway
Russ Widdall

Set Designer
Meghan Jones
Costume Designer
Mark Mariani
Lighting Designer
Drew Billiau
Christopher Hetherington
Sound Designer & Composer
Nick Rye
Fight Director
J. Alex Cordaro
Dramaturg
Kathryn MacMillan
Stage Manager
Rebecca Smith
Assistant Directors
Joshua Browns
M. Craig Getting

2009/10 Season
Henry IV, Part I
By William Shakespeare
Directed by Charles McMahon
April 1 - May 9, 2010
If you enjoyed our darkly comic, Barrymore Award-winning
Richard III
, you'll love this gripping, ripping plot from Shakespeare's history canon. King Henry, having seized the throne of England from his tyrannical cousin, finds himself in a political hornet's nest. As trouble brews, he is horrified to see his own son and heir keeping company with thieves, drunkards, and whores. Witness the tug of war for the soul of young Prince Hal between his tortured, guilt-ridden father and Sir John Falstaff, a charming and insinuating rogue. As Hal wavers, the King's ambitious enemies, led by the dazzling young Hotspur, are on the rise. Prince Hal must make hard choices and face his fears as civil war threatens to swallow up the kingdom.
"A play full of star turns and leading roles, all impressively performed... gallant, ferocious, and beautiful. Seeing a big play on a small stage can be a highly theatrical experience, and Lantern's Henry IV is a fine addition to the company's annual Shakespeare productions."
–Philadelphia Inquirer
"Three standout performances come from the actors who play the most familiar characters, Hotspur, Prince Hal, and King Henry IV/Falstaff. While the production is traditional, it is still very accessible for a modern audience... a perfect blend of comedy, action and politics."
–BroadwayWorld.com
[
More
]
"Chalk up another Shakespeare success at the Lantern with this handsome, audience-pleasing production."
–CurtainUp.com
[
More
]
"The unconventional dramatic swings of this 'history play' become what they're meant to be: a comical and thrilling study in the machinations of human hope, greed, fear and ambition."
–EDGE Philadelphia
[
More
]
The Lantern is "the city's top presenter of Shakespeare's work."
–TheaterMania.com
[
More
]
"Well acted, but the most impressive thing about this production is the immediacy and the royalty of the set in such a small and intimate space. Kaleidoscopic vigor and intensity, abetted by brilliant staging. Bravo to all."
–Broad Street Review
[
More
]
"McMahon and co.'s efforts make exciting theater of a play that dares to juxtapose a brutal battle and Falstaffian slapstick in its climax, revealing the history plays' seldom-seen potential."
–Philadelphia City Paper
Photos by Mark Garvin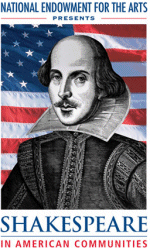 Lantern Theater Company's production of Henry IV, Part I is part of Shakespeare for a New Generation, a national initiative sponsored by the National Endowment for the Arts in cooperation with Arts Midwest.