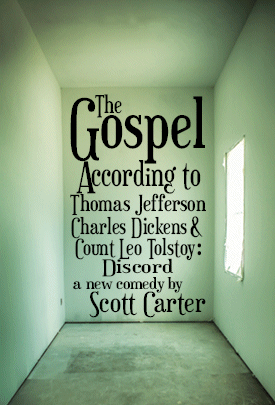 Running Time
Approximately 90 minutes with no intermission
Previews: $24
Opening Night: $45
June 8 - 25: $33-$39
After June 25: $37-$42
Students: $15
Student Rush: $10
Industry: $10

2016/17 Season
The Gospel According to Thomas Jefferson, Charles Dickens and Count Leo Tolstoy: Discord
PHILADELPHIA PREMIERE
By Scott Carter
Directed by James Ijames
Now - July 9, 2017 EXTENDED BY POPULAR DEMAND
A Founding Father, a Victorian literary celebrity, and a Russian aristocrat/anarchist clash in a provocative new comedy that sets three of the world's greatest thinkers against each other in a battle of wits and wills. Jefferson, Dickens, and Tolstoy find themselves locked in a room with no exit. Attempting an escape, they ransack the philosophies of their lives and work, searching for a truth that will set them free. From playwright and former stand-up comedian Scott Carter (writer of HBO's Real Time with Bill Maher), this whip-smart comedy examines just what happens when great men of history are forced to repeat it.

"Scott Carter knows something about assembling a sharp, entertaining meeting of minds, and his variation on Sartre's No Exit...should be catnip for [audiences] yearning for a little food for thought with their fun." –Variety


Special Performances
Previews: Thursday 6/1 - Tuesday 6/6
Opening Night: Wednesday 6/7 at 7PM
Artists in Conversation: Post-show discussion with the cast immediately follows 2PM performances on Sunday 6/11, Wednesday 6/14, Sunday 6/18, and Wednesday 6/21.
Lantern Pub Night: Join us in the lobby after the performance on Friday 6/16 for lively conversation and a complimentary pub beverage.
In Conversation Programs
In Conversation: Playwright Scott Carter
Saturday 6/3 at approximately 9:45PM
Immediately follows 8PM performance

Join us for a post-show conversation and audience Q&A with The Gospel According To... playwright Scott Carter, moderated by Lantern Artistic Director Charles McMahon.


In Conversation: Thomas Jefferson's Religious Beliefs
Tuesday 6/13 at approximately 8:15PM
Immediately follows 6:30PM performance

What did Jefferson really think about God, religion, and religious freedom? Explore the details in this post-show conversation with two eminent historians of the late colonial and Federal period of American history. Dr. John Van Horne, director emeritus of the Library Company of Philadelphia, will moderate this dialogue with Jefferson scholar Charles T. Cullen, who is the interim president and chief executive officer of the Historical Society of Pennsylvania. Dr. Cullen has served as editor of The Papers of Thomas Jefferson at Princeton University and was the president and librarian of The Newberry Library in Chicago from 1986 to 2005. The discussion will focus on Jefferson's views on Christianity, freedom of conscience, and the establishment of religions, especially his authorship of the Virginia Statute for Religious Freedom. The program will also respond to the play, exploring the extent to which Jefferson lived up to the principles espoused in his own "gospels," The Philosophy of Jesus of Nazareth and The Life and Morals of Jesus of Nazareth.


Cast & Production Team
Andrew Criss as Count Leo Tolstoy • Gregory Isaac as Thomas Jefferson • Brian McCann as Charles Dickens

Lance Kniskern, Scenic Designer • Millie Hiibel, Costume Designer • Shon Causer, Lighting Designer • Christopher Colucci, Sound Designer • Avista Custom Theatrical Services, Props Master • Rebecca Smith, Stage Manager • Elise D'Avella, Assistant Director • Meghan Jones, Production Manager




News & Reviews
"Lantern's production, directed with plenty of style by James Ijames, makes a theology debate – not the usual topic for a comedy – both
entertaining and intriguing
.
You'll laugh and you'll ponder.
"
–The Philadelphia Inquirer
more
"Scott Carter
makes religious debate exciting
... The often heady debate favorably compares to George Bernard Shaw, who likewise made intellectual discourse sincere and passionate.
Gospel
's fine cast bring these initially stiff figures to life and make them face themselves."
–Broad Street Review
more
"
Smart, funny, fascinating and entertaining.
The Lantern is an old hand at presenting plays full of heady ideas... Carter's play will give you a lot to think about – and, in its best moments, a lot to laugh about."
–DC Metro Theater Arts
more
"
It would be hard to come up with better casting.
They ride with the give and take, each with a distinct and unmistakable voice. Gregory Isaac...is vital and compelling as a rational, cynical Jefferson – who could have been quite tedious. Brian McCann doesn't shy away from becoming shameless showman Dickens. Flamboyant and ridiculous, he's a traditionalist with religious certitude. And Andrew Criss as Tolstoy is steady and grounded. Tolstoy keeps his own counsel much of the time until he emerges humble, but willing to brag. Ultimately he's the one to espouse a useful and true philosophy. The Lantern team digs deep, and with skill and imagination transforms an essentially all-talk playscript into
an engaging, living piece of theater
."
–Phindie
more
"A boisterous ballet of braggadocio and
big ideas
."
–The Ticket
more
"Pretty damn entertaining...
An evening of smart comedy
borne from a clash of strong personalities."
–Talkin' Broadway
more

Header Photo: Geneviève Perrier and Charlie DelMarcelle in
A Child's Christmas in Wales
(2014); Kittson O'Neill, Maxwell Eddy, and Alex Boyle in
Arcadia
(2014); Damon Bonetti, Daniel Fredrick, and Dave Johnson in
The Hound of the Baskervilles
(2015); and Kirk Wendell Brown and Peter DeLaurier in
The Train Driver
(2014). Photos by Mark Garvin.
©2017 Lantern Theater Company
Privacy Policy